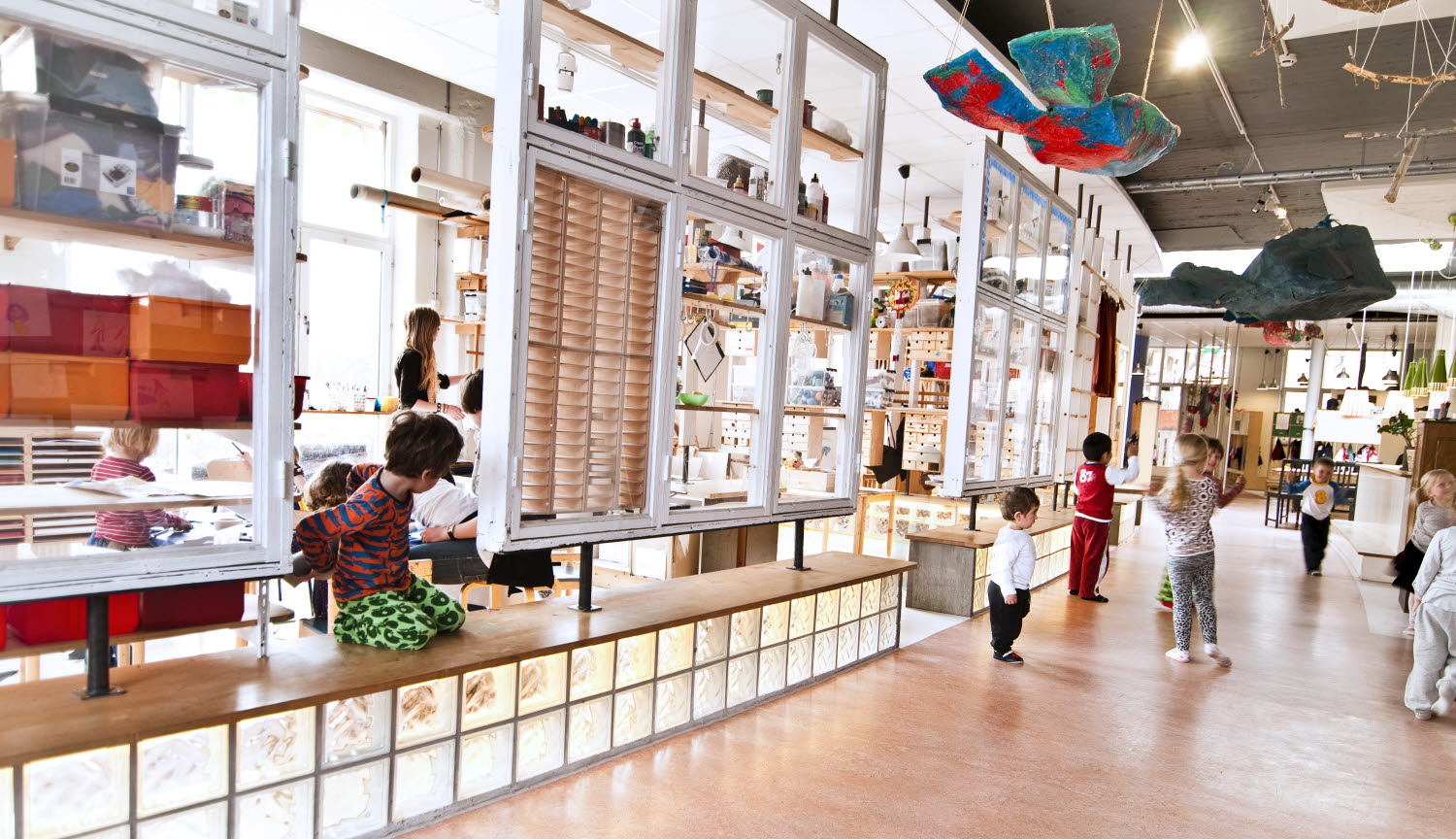 The preeschool
Our preschool focuses on the experiences of discovery and experiment of the children to, among other things, investigate science and technology. We have space here for curious children and teaching personnel who join in the discovery.
The studio contains a great deal of stimulating material for creative activity. The windows onto the corridor give a feeling of openness. The windows facing the park go right down to the floor.
We have places for 60 children at the preschool in the five homes: Eld, Vatten, Jord, Luft and Rymd. The Tom Tits Experiment Preschool is unique in the world in having its activity coupled to a science centre.
Playing
For the youngest children, the simple activities of everyday life are something new and, quite simply, research. For those somewhat older, common activities have become familiar, and they have time to wonder what soap is, and whether orange squash flows as well as water does.
It is in the meeting with others and with everyday life that the question gains its value. This is why we have created many nooks and crannies in our preschool. Each corner has its own activity, just now. Curiosity about what is happening in other corners leads to new meetings and new games.
Nearness to Sweden's largest science centre gives the preschool children ample opportunities to continue discovery in a playful and jubilant manner, and build on the discoveries made in preschool.
Teaching theory
Security, enjoyment and talent are the guiding principles for the preschool activities.
Giving security, creating enjoyment and nurturing talent for everyone at the preschool are fundamental necessities to being able to create activity in which we give every individual the opportunity to develop. This applies for the children, parents, and teaching personnel at the preschool.
We base our work on the experimental and jubilant exploration that children do. We adapt our activities such that children are given the opportunity for learning: on their own, in groups with various compositions, and at the preschool premises. Our starting point is to see the children's everyday life as the natural arena for learning.
Our teaching approach
We are to work actively such that we are teachers who explore and discover together with the children. We are to nurture the children's interests, and work actively such the children's ability to affect decisions is encouraged and nurtured.
The teaching personnel are to take an active approach and preserve and create situations in which scientific topics are made apparent.
Premises and forms
Getting dressed, eating, keeping order, going to the toilet – there are many everyday activities at preschool. The role of the architect and scenography is to create the conditions required for all this. And to create the conditions required for meetings, the exchange of knowledge and experiences, and a way of working characterised by curiosity. At the preschool we have created places with a disarming lack of pretention. Large areas in which all children and adults can join together, and small nooks, each of which has its with character for other types of meetings, play and games. Everything is open, but even so united.
The entrance is common to all sections, which we call "homes". These are Eld, Vatten, Jord, Luft and Rymd.
Our spa, "The H2O Room"
Water is tested in all possible ways. Why not use your whole body? In the "H2O" room at the preschool, we have space to splash and play, pour, float, splash others, spray...
Application and fees
The preschool is open for children between 1 and 5 years. We have places for approximately 60 children. Eleven adults work at the preschool.
The Tom Tits Experiments preschool has its own queue.
Register your requirement of a preschool place at least four months before you need it (the date on which you want your child to start attending).
Södertälje municipality currently applies a system known as "maximum charge". More information is available at the municipality website.
Parents who are on parental leave may have older siblings at the preschool for a maximum of 24 hours a week. These hours are to be distributed on Monday to Thursday, in the period 8:00 am-3:00 pm.