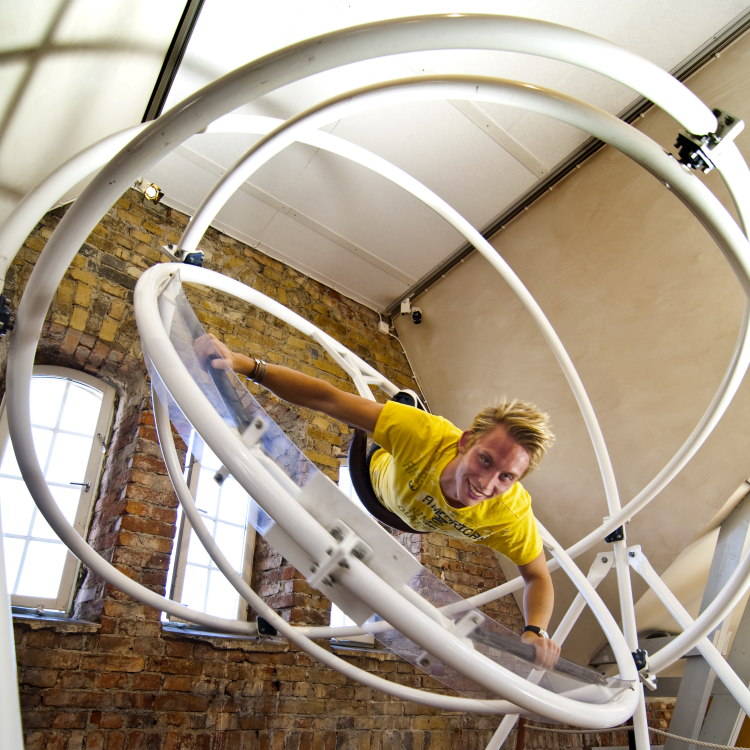 Upper secondary schools
Get a new perspective hanging upside down in the "Space Ball". We provide a creative environment for the pupils. Discussions often arise when they try our experiments.
Visit without a Tom Tits guide
When you book the visit, you can ask that a short introduction to Tom Tits Experiment is given when you arrive.
We want children and adults to test, twist, swivel, feel and investigate our experiments in a responsible manner. The exhibition contains descriptions and explanations of the experiments, and it may be the case that you take more questions home with you than you had when you arrived. This is one of the strengths of Tom Tits Experiment, and it's important that you continue to work with the experiments in the classroom.
There is a room at Tom Tits Experiment where you can eat food that you bring with you, and leave outdoor clothes and bags. Items of value must not be left in this room. We have a number of lockers in which the most important items can be locked.
Price for visits booked in advance
Entry fee per pupil: SEK 120 (incl. VAT)
Entry fee per adult: SEK 120 (incl. VAT)
Between 1 September and 30 April, we have a special offer for prebooked school visits.
Entry fee per pupil: SEK 65 (incl. VAT)
Entry fee for teachers: SEK 0
Conditions: visits booked in advance. If such visits are paid in cash, payment must take place for the complete group at the same time.