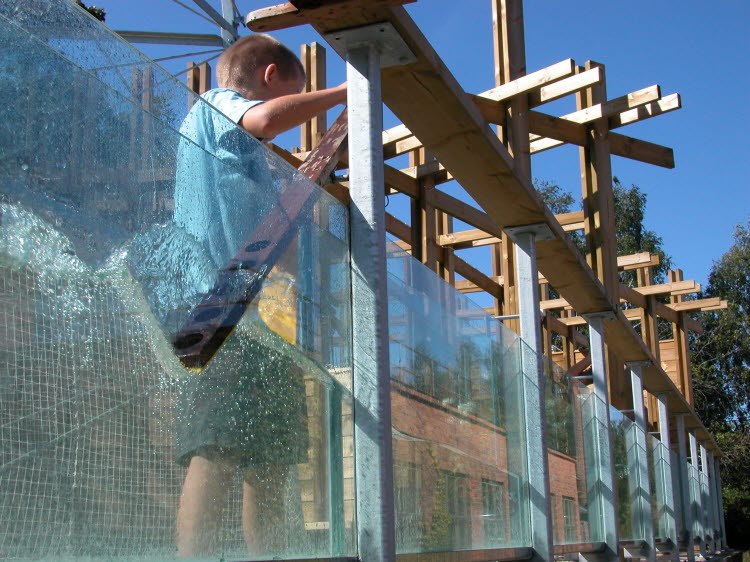 Summer holiday
The summer holiday has made an entrance at Tom Tits! Now you can experiment with water, spin around in the rides and come on an adventure with us.
Steampunk theatre
So what is steampunk, you might ask. Steampunk is a variation on science fiction that takes place in a world reminiscent of the 19th century, where the cogwheel is the basic component of all high technology and nearly all vehicles and machines are run with a steam engine. There may be spaceships, ray guns and time machines.
All summer long, we are showing the steampunk play "The Tempest" twice per day.
"The sly Count Antonio has forced the great scientist Prospero to flee his home and escape out into space along with his daughter Miranda. Their spaceship crashes on a desolate frozen planet far from their home moon of Mediolanum. But they are not alone..."
Photographer: Martin Lundström
Rides
There are several rides for you to try out in our park and in the house. Cycle across the park on a tightrope, spin around in Centrifugen, try all the five rides of Robocoaster, go up and down Självfallet or experience being an astronaut in Space Ball. Some of the rides have age and height requirements, so if you want to be sure to be allowed on the ride, check first.
Workshop
Every day, we organise educational workshops for our visitors. This summer is all about discovering, and that is exactly what we will be doing in the chemistry kitchen. To be exact, we are discovering chemical reactions. What happens if you take this powder and mix it with that liquid? Find out in the chemistry kitchen!
Makerspace
Our fun creative Makerspace is always open! In it, you can come up with your very own fairytale, make your own characters and then enact it in our shadow theatre. Or create a story with the characters already at hand. It's up to you!
Do you like games? More specifically, do you like boardgames? During certain hours of the day you can programme your own die with special functions of your choice, and then use it in a boardgame.
Always year at Tom Tits
Every day, all summer at Tom Tits Experiment, you can see cool experiments being done at our mobile experiment trolley. Keep an eye out for the flashing orange light. Learn more and see soap bubbles take on all kinds of shapes at the soap bubble shows we do several times a day, in both Swedish and English. Don't miss out on the chance to participate in Tom Tits Space School, just find Major Tom and he'll get you started on this adventure.