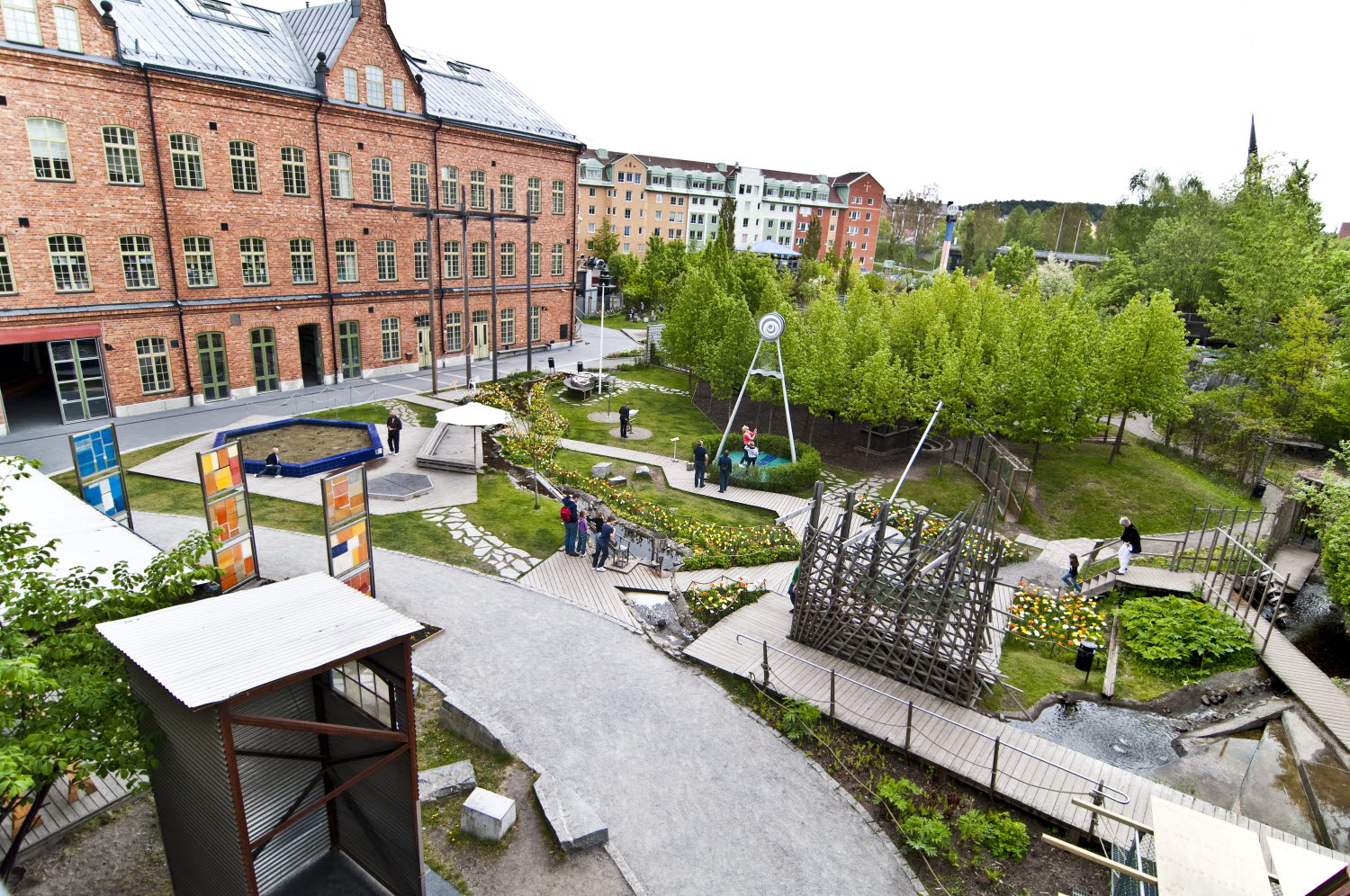 What do we do to help pollinators at Tom Tit's Experiment?
At Tom Tit's Experiment, we have about 8,000 m2 of park space. A key prerequisite for creating biodiversity is having access to clean water. Our groundwater well, ponds and artificial stream give us good access to water.
The plant material in the park is primarily inspired by the local nature around Södertälje, with some additional plants from further afield. Today, no artificial fertilisers, chemicals or fossil fuels are used to run and maintain the Tom Tit park. One of our watchwords is that no biological waste, such as cleared weeds, leaves, etc., should leave the park. Instead, everything is returned to the earth. This plant waste is left on the ground in our planted beds under plants, bushes and trees. It provides food for worms and other decomposers, which in turn convert it into nutrients to feed the plants. Pruning waste is shredded and large branches are made into fences or shaped into heaps that provide nesting places for insects, spiders, lizards, snakes, hedgehogs and other organisms.
The natural cycle of nature.
Another of our watchwords is that all the plants we choose must serve a useful purpose. For instance, they must be edible for humans, animals or birds, or of importance for insects or other organisms. Many plants meet several of these criteria. And the plants' beauty is an added bonus! We aim to ensure that there are nectar- and pollen-rich plants in the park throughout the season to provide a continuous food supply for as many pollinators as possible.
All the flowers may not be noticeable at the same time. Flowering trees and bushes are a rich source of nectar and pollen, as are many weeds, although they are slightly more noticeable. Which raises the question: are they really weeds?
Tom Tit's collaborates with many companies and with Södertälje Municipality to make Södertälje an attractive place for homeseekers, both human and non-human. To make Södertälje an attractive place for a diversity of living organisms, targeted work is needed to develop different places that contain food, water and nesting places for our friends the pollinators. These places should be interconnected by green walking routes, so that there are no isolated spaces without opportunity for exchange. As part of this aim, Södertälje Municipality has adopted a pollination plan to promote a diversity of pollinators in Södertälje.