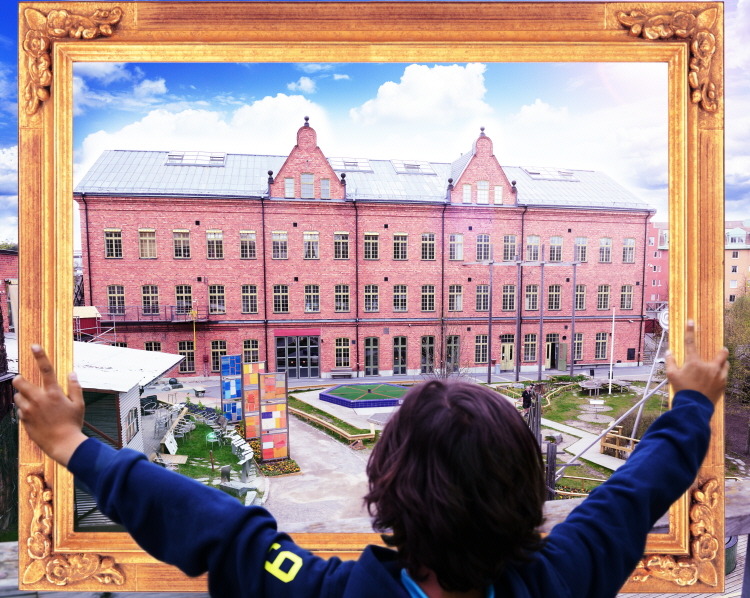 School trips
We have experiments to discover, play with and learn from. You get to try out everything yourself. Most things here are suitable for all ages. Spend a few hours, half a day, or a full day.
Try out all the fun stuff in the park, which opens on 30 April.
Youtubemovie Water rocket
Park opening
The park is open every day from the end of April to the end of September. Several experiments in the park require personnel to be present (these are the large experiments that you travel in): these are open at weekends in September.
Arriving
Car parking is available right beside the building, and coaches can unload just outside the door, on Astrabacken. Details of arriving by car
Commuter trains from Stockholm to the train station Södertälje Centrum leave approximately every 15 minutes. It takes about 10 minutes then to walk to Tom Tits Experiment. Commuter trains timetable
Buses run from the Liljeholmen metro station.
Eating
Our restaurant serves a delicious large buffet every day with several hot and cold meals, lots of vegetables, and pancakes with jam and cream.
The organic lunch buffet offers soup, salads, great buns, organic coffee, toasted sandwiches made with organic bread, and ice cream.
Ice cream parlour in the park - open in the summer when the weather is fine
A room for eating food you bring with you
It is also possible to eat a picnic on the park lawns (open May-September).
School prices
Pupil younger than 17 years: SEK 120
Adults: SEK 120
Between 1 September and 30 April, we have a special offer for prebooked school visits.
Entry fee per pupil: SEK 65 (incl. VAT)
Entry fee for teachers: SEK 0
This price applies for visits booked in advance. If such visits are paid in cash, payment must take place for the complete group at the same time.